Green Games Jewelry Make Your Own Necklace Home Parties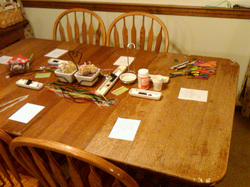 If you are in the Kansas City metro area, I offer home parties as a chance to let people make their own necklaces. I have found game piece necklaces to be so much fun to make that I wanted to let others get to make them too. I would bring all the supplies to your home, and you just invite your friends. They can make as many necklaces as they want at a low price and take them home that day. The hostess receives two free necklaces (their own or my creations) and receives a 10% discount on any necklaces, supplies, or DIY kits for the next year. If any guest books a party they take home a free necklace that day. These are great for birthday parties, Girls Night Out, or a fundraiser.

---
Repurposed game pieces handcrafted into wearable art - Fundraisers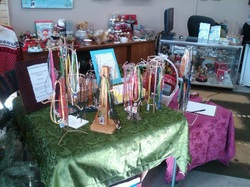 How many of us are raising funds for a great cause but get tired of cookies and wrapping paper? Think about having a Green Games Jewelry fundraiser. We offer Home Jewelry parties, pre-made necklaces, custom necklaces with YOUR image (ie a school mascot), or can come and set up a table at your other fundraising event (if you are in the Kansas City metro area). Twenty five percent of the sales will be given back to your organization! I love to support a good cause. If you are not in Missouri or Kansas, I can mail you all the supplies for your own Home Party or completed necklaces or order forms for your group to sell the necklaces.

---
Fundraisers - Home Jewelry Making Party (or school, or church, etc)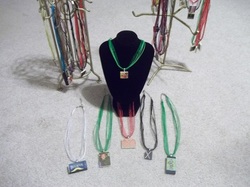 You can host a fundraiser at your home, church, school or other location. I would bring all the supplies to make necklaces and you just need to invite the guests (and have enough tables to let everyone be creative). Guests will pay a low price per necklace and your organization will receive 25% of what is purchased that day. I will also bring a number of completed necklaces for guests to look at, so if you want to offer an Open House format, guests can come and go as they please. Your group could also make your own necklaces to sell after the home party. Game Piece Necklaces will often sell for $10-20 a piece in many parts of the U.S.

---
Fundraisers - Completed Necklaces to sell at your location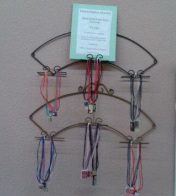 Another fundraising option is to sell completed necklaces at your location. I can leave a variety of necklaces with you for a short period of time and your group pays for the necklaces that sell.

---
Special Events? We can customize necklaces!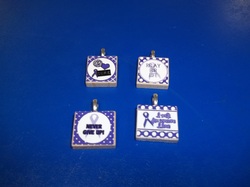 We want to help your group out and can work on a custom image for your event. Hosting a 5K? Team Captain for a charity walk? We can make necklaces in your organizations colors or with the date of the event. Holding a fundraiser at church? We can give you a huge variety of images to choose from. And now, we can send you a book of images to choose from (just like a catalog). Share the book with your friends and family and we will custom make the necklaces that they want. There are over 30 different themes to choose from (and most themes have 20-40 different images). Contact
Christal
(email ribbit325@yahoo.com) to find out how we can help your group raise funds in a unique way.
---
Wine Charm and Charm Bracelet Parties or Fundraisers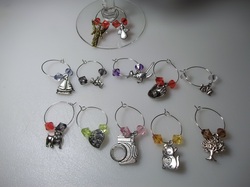 We have a brand new idea for a home party or fundraiser - wine charms and charm bracelets! I have over 200 different charms now and you can host a party where everyone makes their own charm bracelet or wine charm (pick out a charm and bead color for the wine charms, or pick 5 of your favorite charms along with a bracelet). I will bring all the supplies - you invite the guests and have a location to host the party. I can also create a wine charm tree if you would like to have a fundraiser anytime/anywhere. The tree is loaded with pre-created wine charms and your guests just pick the ones that fits them best. Contact
Christal
to find out how to have a great night out or to help your group raise funds in a unique way for your great cause.
---