Repurposed game pieces handcrafted into wearable art - Supplies

Glue on Bails - Prices vary based on size of bail and quantity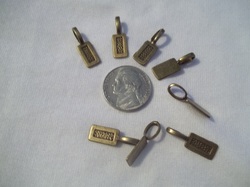 Bails are the metal piece that is glued on the tile that the necklace goes through. They come in a variety of shapes and sizes. The most common bails that I use are medium (teardrop shaped), rectangular, and heart shaped. The hole at the top of the bail needs to be big enough for your necklace cord to go through, so the "opening size" is an important number. I have 30 different bails available in a variety of shapes, sizes and colors.
The teardrop bail is 21mm x 7.5mm with a 6.5 x 4mm hole
The medium rectangle is 21 mm x 7 mm with a 6.5 x 4 mm hole
The large rectangle is 26mm x 8mm wide and has 8 x 4.5mm hole
The large heart is 21 mm x 8 mm with a 7.5 x 5 mm hole

---
Voile organza ribbon necklaces - 20 for $10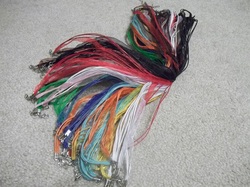 These are 20 brand new 18" long silk ribbon 3 or 4 strand voile necklaces. They have a 2 inch extender on the end. You will receive multiple colors as seen in the picture. They are perfect for scrabble tile, game piece, bottle cap, and other necklaces.


---
Scrabble Tile Size Epoxy Domes - 50 for $10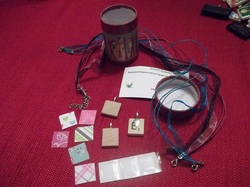 These 3D epoxy domes that fit scrabble tile size pieces. They are adhesive so can fit right over your image and make it instantly wearable.







---
Charms - over 200 to choose from - Prices vary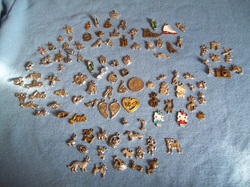 There are over 200 different charms to choose from; to make your own wine charms, bracelets, necklaces, earrings, or other craft project. You can buy them by theme, or individually. The charms are a metal alloy and are silver plated, antique gold color, antique bronze color, or made with enamel. Theme choices include:
wedding baby love princess Under the Sea
Battle Gear vacation travel animals birds
dogs cats zoo jungle shoes
Planes, Trains and Automobiles hearts
sports music farm crosses religious
And MORE!

---